The Book
7 Areas of child development And Growth
From Pre-natal to pre-school
(Guidelines for Parents & Teachers)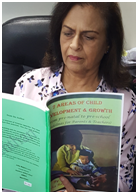 The Author
Asha Raja
(M.A., M.S M.S.M.)
Founder-Director
Rainbow Global school
(Established 1984)
Division of MRICE
(Established 1968)
And Manthan
(Established 2007)
I believe that each child is a reservoir of immense capacities. They need to find the opportunities to express their potentials. They also need guidance and care.
Talking, teaching and interacting with the young students and parents at my institute for the past 40 years have made me realize the need for guidance to those who are in care of children. Knowledge and awareness about the needs of children, their latent capabilities and inner forces would help to achieve maximum success, in terms of material and mental, through this growing force.
It is important to be able to relate to childhood. Very often we underestimate the capacities of a child. This could be because of our own limited knowledge, personal bias or emotional involvement and inhibitions. The loss we must incur due to this neglect is unimaginable. We must be deprived of so much in terms of our personal happiness and towards the benefits we could gain for the entire humanity.
This book is endeavors to share with you what I have learnt from my teachers, students, parents and children of my school and my own children.
Preface
While teaching my students of Early Childhood Care Education Diploma Course (ECCE) and talking to the parents of children in my nursery school- Rainbow Global School, I realized the need for a simple book that would help people to learn and know more about small children. It is heartening to realize that there are aware parents and young people who are interested in the matters of children.
Children are that dependent and vulnerable part of our society, who is not able to talk or defend or argue or demand or criticize or express its thoughts to us. In spite of being the foundation of the future member of our society, citizens of our country, keepers of our cultural values and our hope for the mankind's very existence they remain as the silent link in the chain of propagation. We the parents, teachers, care givers are entrusted with the responsibility of ensuring proper bringing up, care and training of our children. To be qualified to perform such an important task it is essential to equip oneself with proper knowledge of children's needs which are very different from those of the adults. Love and care must be mixed with good amount of discipline. Inculcating concern for other living beings, environment and tolerance for diversity must form an important part of the training agenda.
As the author of this book I aim at contributing this vital need through my book. I am truly grateful to all- my students, friends, family- who are responsible for providing the encouragement that has made it possible for me to realize my role as an active participant in this mission.